The El Aguila Project is located in the San Jose de Gracia Mining District in Oaxaca, Mexico, and was the first property Gold Resource Corporation acquired for its Oaxaca Mining Unit in 2002. The property currently comprises 10 mining concessions aggregating 20,055 hectares. Multiple volcanic domes of various scales, and probably non-vented intrusive domes, dominate the district geology. These volcanogenic features are imposed on a pre-volcanic basement of sedimentary rocks. Polymetallic mineralization, including high-grade gold and silver, in this district is related to the manifestations of this classic volcanogenic system and is considered epithermal in character.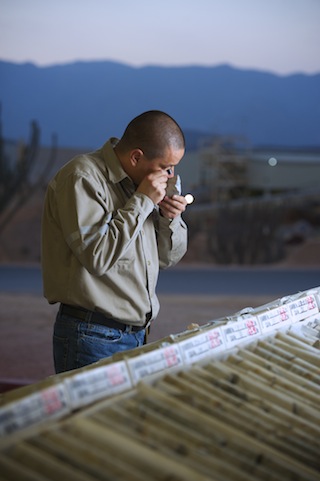 Gold Resource Corporation successfully declared production July 1, 2010 from a shallow, high-grade open pit at its El Aguila project, which enabled the Company to reach production and cash flow in the shortest amount of time. The Company's current producing Arista underground polymetallic deposit is located on the El Aguila project. For more information on the Arista underground mine, please visit the Company's "Producing Mines" page.
For the most updated information on exploration at the El Aguila Project, please view the latest Company Presentation.