Gold Resource Corporation is a gold and silver producer, developer and explorer with operations in Oaxaca, Mexico. Under the direction of a new board and professionals, the focus is to unlock the significant upside potential of its large land position surrounding the mine and existing infrastructure.
Dividends
GRC MONTHLY DIVIDENDS
Record Date
Pay Date
Dividend
Amount
Dividends
Declared YTD
Annualized
Dividend
03/11/2021
03/23/2021
$0.003333
$0.003333
$0.04

OVER $116,000,000 RETURNED
TO SHAREHOLDERS TO DATE

Since Commercial Production July 1, 2010
Dividends not guaranteed, see risk factors in Company's 10k
Gold Resource Corporation Gold and Silver Dividend Program
Gold Resource Corporation (GRC) shareholders have the option to receive gold and silver dividends by converting their cash dividend into physical gold and / or silver providing direct exposure to physical precious metals. Upon execution and conversion from cash into physical, the shareholder has the option to take delivery of their physical precious metals, direct their physical into a Gold Bullion International approved vault or direct the metals into a vault of their choosing.
For complete information on how GRC dividends are distributed in physical gold and / or silver and how to open up a shareholder "bullion account", please read the external website referral below and click "I Agree".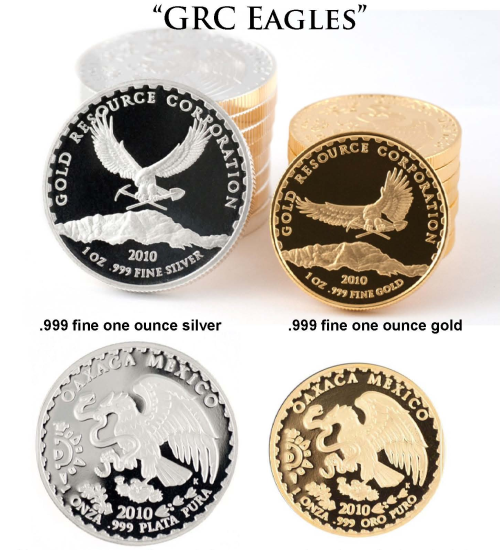 The Gold Resource Corporation "GRC Eagles" one ounce round was designed to honor both the United States of America and the United States of Mexico and their ties to the Mining Industry. The design integration of the American Eagle clutching a pick and shovel and an image of a miner's face hidden in the mountains of Pikes Peak pays homage to the industry. The Mexican Eagle side proudly displays the name Oaxaca Mexico and the date 2010 denoting the year Gold Resource Corporation reached commercial production from the Company's Oaxaca Mining Unit in Oaxaca, Mexico.
External Website Referral
You are leaving Gold Resource Corporation's website. You will be redirected to Gold Bullion International (GBI). GRC has partnered with GBI to facilitate GRC's dividend program to permit shareholders to exchange cash dividends for physical gold and silver. The website you are now entering is monitored and supported by GBI. GRC makes no representation or warranty as to the accuracy or completeness of any of the information on, or obtained through, such website and Gold Resource Corporation accepts no responsibility whatsoever for such website information. By clicking the "I Agree" link below, you agree to be redirected to GBI.
Company: Gold Bullion International
Website: http://grc.bullioninternational.com