MAINTAINED A SOLID BALANCE SHEET WITH $21.4 MILLION IN CASH
SOLD 10,055 GOLD EQUIVALENT OUNCES
COMPLETED MORE THAN 2,500 METERS OF EXPANSION EXPLORATION DRILLING
EBITDA OF $6.3 MILLION
NET LOSSES OF $1 MILLION, OR $0.01 PER SHARE
Denver, Colorado – April 25, 2023 – Gold Resource Corporation (NYSE American: GORO) (the "Company") sold a total of 6,508 ounces of gold and 294,815 ounces of silver in the first quarter of 2023 for a total of 10,055 gold equivalent ounces. Additionally, during the quarter, the Company sold 3,060 tonnes of zinc, 332 tonnes of copper, and 1,417 tonnes of lead. For the quarter ended March 31, 2023, the company reported a net loss of $1 million with revenue of $31.2 million and mine gross profit of $3.9 million from operations. A total of $5 million was invested in the Don David Gold Mine and Back Forty Project.
"Our 2023 annual production at the Don David Gold Mine is off to a good start. This achievement is due to mining higher average grades as a result of targeted infill drilling and mine sequencing," stated Allen Palmiere, President and CEO. "Underground resource expansion drilling is progressing as planned. In addition, the mine is managed by a new leadership team that is already realizing improvements to maximize efficiencies and safety protocols. At the Back Forty Project in Michigan, feasibility study work related to metallurgical testing and refinement of capital cost estimates continues."
2023 HIGHLIGHTS
Additional highlights for the three months ended March 31, 2023, are summarized below:
Financial
Working capital was $24.1 million as of March 31, 2023, $2.7 million higher than as of December 31, 2022. The increase is primarily due to a decrease in royalty taxes payable.
Total cash cost for the quarter was $711 per gold equivalent ("AuEq") ounce (after co-product credits) and total all-in sustaining cost for the quarter was $1,221 per AuEq ounce (after co-product credits).
The Company's Annual Meeting of Shareholders will be held in person on June 15, 2023. Information regarding notice, materials, and voting can be found in the 2023 Proxy Statement that will be filed with the SEC on April 28, 2023 and available at https://www.sec.gov/edgar.
Don David Gold Mine
The Don David Gold Mine ("DDGM") safety program aims to bolster the overall health and safety culture of our employees.

There was one lost time incident during the first quarter of 2023.
The year-to-date lost time injury frequency rate per million hours of 1.96 is substantially below the Camimex (Mexican Chamber of Mines) industry average of 4.52.

For the ninth consecutive year, the Don David Gold Mine earned the prestigious Empresa Socialmente Responsable ("ESR") award from the Mexican Center for Philanthropy (CEMEFI). Awards are given to organizations who demonstrate a commitment to supporting social and environmental protection programs within their local communities.
Exploration has progressed as planned during the first quarter with work continuing to focus on infill drilling with encouraging results. Our 2023 exploration objectives are to identify and define additional mineral resources from the Three Sisters, South Soledad, Sagrario, and Marena vein systems.
Back Forty Project
The feasibility study work for the Back Forty Project in Michigan, USA progressed during the first quarter of 2023. Work related to metallurgy and the economic model will continue with a deliberate and measured approach.
Once the feasibility study work is completed, the Company's Board of Directors will evaluate the current economic climate and make a decision on how to move forward with the Back Forty Mine.
2023 Capital and Exploration Investment Summary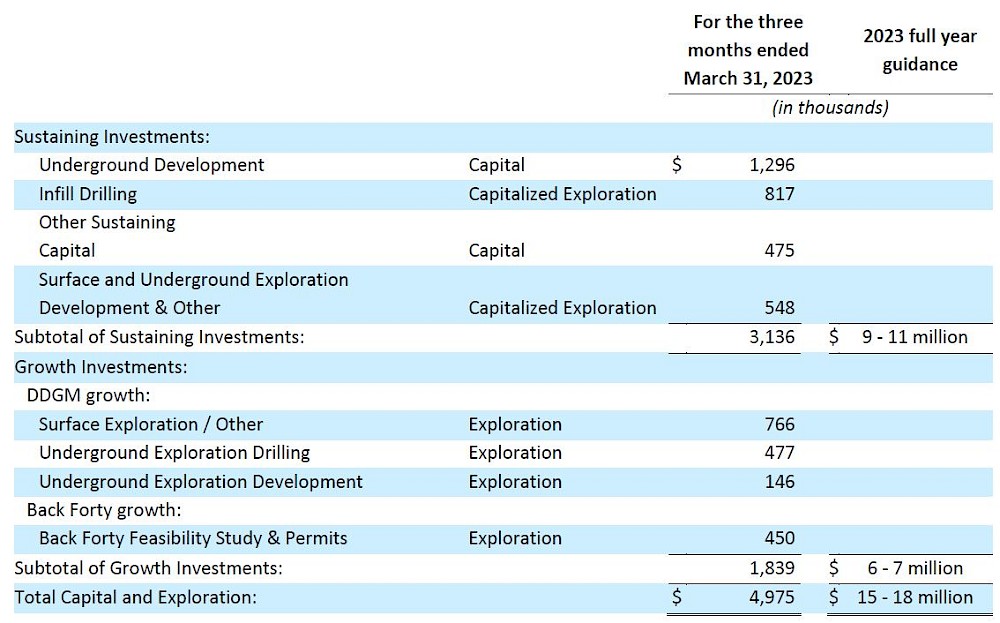 Trending Highlights (unaudited)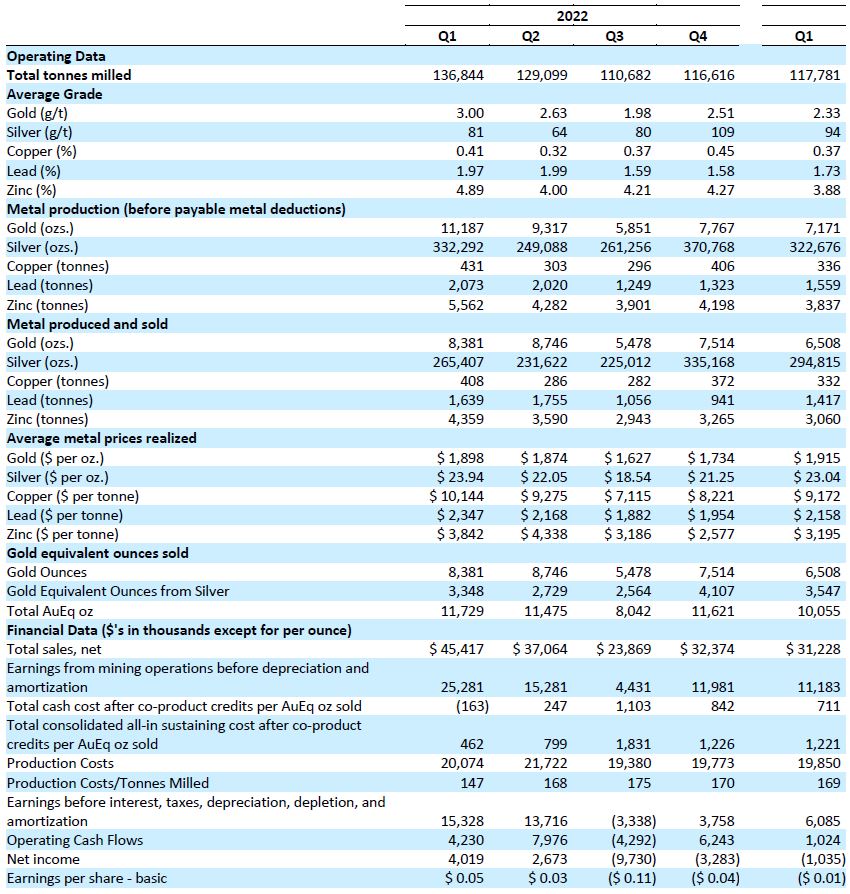 Q1 2023 Conference Call
The Company will host a conference call Wednesday, April 26, 2023, at 10:00 a.m. Mountain Time.
The conference call will be recorded and posted to the Company's website later in the day following the conclusion of the call. Following prepared remarks, Allen Palmiere, President and Chief Executive Officer, Alberto Reyes, Chief Operating Officer and Kim Perry, Chief Financial Officer will host a live question and answer (Q&A) session. There are two ways to join the conference call.
To join the conference via webcast, please click on the following link:
Click Here To Join Webcast
To join the call via telephone, please use the following dial-in details:
| | |
| --- | --- |
| Participant Toll Free: | +1 (888) 396-8049 |
| International: | +1 (416) 764-8646 |
| Conference ID: | 13462059 |
Please connect to the conference call at least 10 minutes prior to the start time using one of the connection options listed above.
About GRC:
Gold Resource Corporation is a gold and silver producer, developer, and explorer with its operations centered on the Don David Gold Mine in Oaxaca, Mexico. Under the direction of an experienced board and senior leadership team, the company's focus is to unlock the significant upside potential of its existing infrastructure and large land position surrounding the mine in Oaxaca, Mexico and to develop the Back Forty Project in Michigan, USA. For more information, please visit GRC's website, located at www.goldresourcecorp.com and read the company's Form 10-K for an understanding of the risk factors associated with its business.
For further information please contact:
Kim Perry
Chief Financial Officer
Kim.Perry@GRC-USA.com
www.GoldResourcecorp.com