Maintains 2023 Production Guidance
Gold Resource Corporation ( NYSE American: GORO ) (the " Company ") is pleased to announce its mid-year and quarterly operational results from its Don David Gold Mine (DDGM) near Oaxaca, Mexico, and a corporate update on its other activities.
Year to Date Highlights Include :
Produced and sold 10,795 ounces of gold and 569,072 ounces of silver
Produced and sold 6,201 tonnes of zinc, 659 tonnes of copper, and 2,734 tonnes of lead
Total cash cost after co-product credits for the quarter was $1,333 per gold equivalent ounce
Cash balance of $18 million with no debt and working capital of $20.8 million at June 30, 2023
"While our quarterly results are lower when compared to last year's environment of higher base metal prices, our operational results to date remain in line with our 2023 mine plan and guidance," stated Allen Palmiere, President and CEO for the Company. "Factors that are out of our control and affect our bottom line include a strengthening Mexican Peso to the US dollar, increased local power costs and lower metal prices for our co-product metals of copper, lead and zinc. To offset these factors, we continue to identify and implement opportunities for other cost reductions and operational efficiencies. We are pleased to report that we continue to have encouraging drill results from our underground exploration program at DDGM with the goal to increase the average grade of our life of mine resources and that of our 2024 mine plan."
Second Quarter Operational Results
Don David Gold Mine
No lost time incidents during the quarter. Our year-to-date LTIFR safety record is 0.22 as compared to the Mexican average of 0.88 (in US equivalent). Safety at Gold Resource Corporation is paramount. Even with a good track record at the Don David Gold Mine ("DDGM"), the Company continues to strive each quarter for improved measures, awareness, and training.
The DDGM diamond drilling program has progressed as planned during the second quarter with encouraging results. Drilling continues to advance at DDGM on two fronts: (1) Infill drilling with the objective of upgrading defined Inferred resources to the Indicated category; and (2) Exploration drilling with the objective of identifying additional Inferred resources via step-out drilling along the South Soledad, Sagrario, Marena and Three Sisters vein systems, as well as on the recently identified Gloria vein system.
Back Forty Project
Optimization work related to the metallurgy and the economic model for the Back Forty Project in Michigan, USA is near completion. The Company plans to release these updated results in a report during the third quarter.
Updated site layout designs have focused on little to no impact on wetlands and being fully protective of the environment. The U.S. Supreme Court ruling in Sackett v. Environmental Protection Agency limits the federal government's authority with regards to wetlands and will likely result in not needing a "dredge and fill" wetland permit. The "drawdown" of wetlands will be regulated by Michigan State authorities.
Financial
Total cash cost after co-product credits for the quarter was $1,333 per gold equivalent ("AuEq") ounce and total all-in sustaining cost ("AISC") after co-product credits for the quarter was $1,990 per AuEq ounce. Although the year-to-date total cash cost after co-product credits of $979 and total AISC after co-product credits of $1,551 are within guidance, the strengthening of the peso and lower zinc prices may result in needing to revise the full year guidance later in the year. (See Item 2—Management's Discussion and Analysis of Financial Condition and Results of Operations – Non-GAAP Measures below for a reconciliation of non-GAAP measures to applicable GAAP measures).
The Company's At The Market Offering Agreement with H.C. Wainwright & Co., LLC (the "Agent"), which was entered into in November 2019 (the "ATM Agreement"), pursuant to which the Agent agreed to act as the Company's sales agent with respect to the offer and sale from time to time of the Company's common stock having an aggregate gross sales price of up to $75.0 million was renewed in June 2023.
2023 Capital and Exploration Investment Summary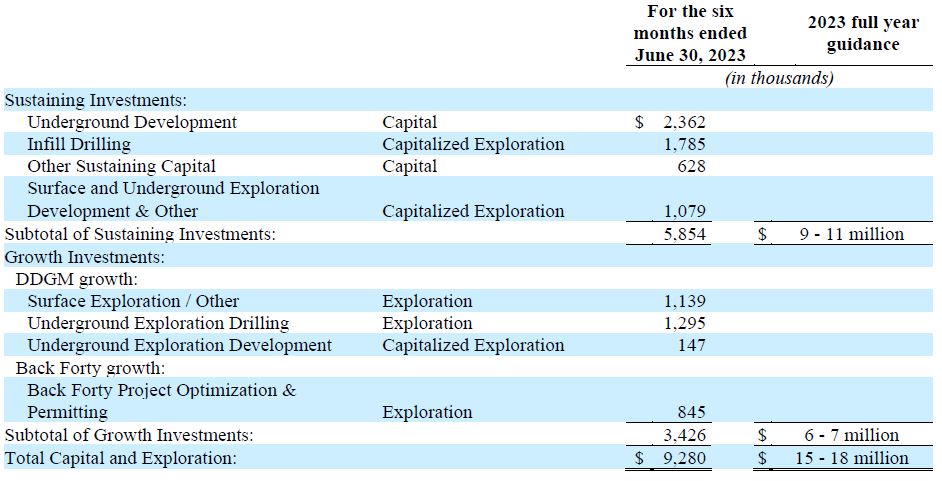 Trending Highlights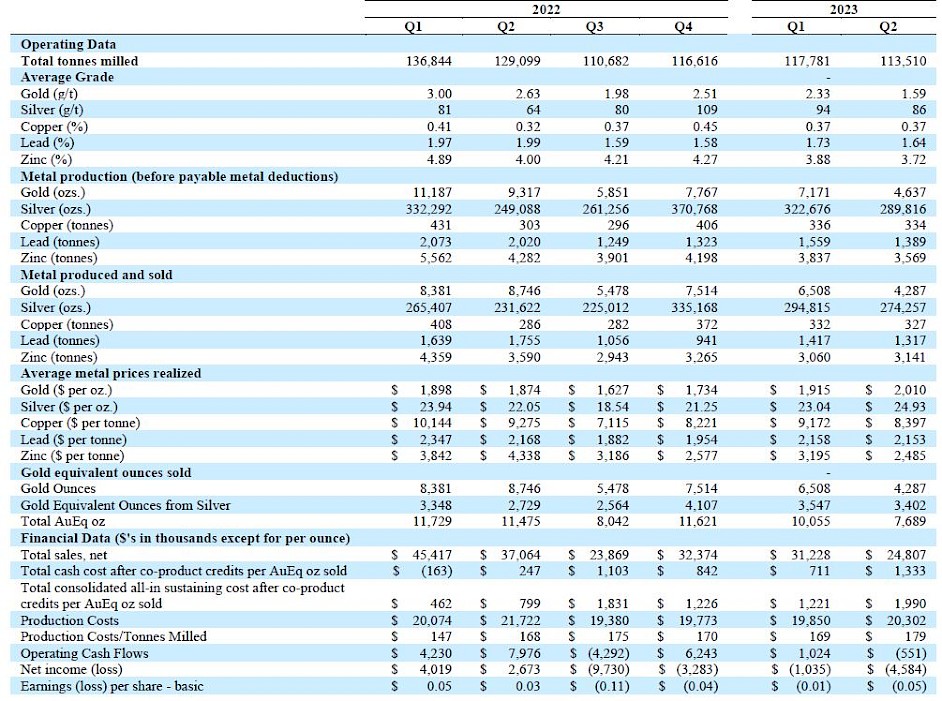 About GRC:
Gold Resource Corporation is a gold and silver producer, developer and explorer with its operations centered on the Don David Gold Mine in Oaxaca, Mexico. Under the direction of an experienced board and senior leadership team, the company's focus is to unlock the significant upside potential of its existing infrastructure and large land position surrounding the mine in Oaxaca, Mexico and to develop the Back Forty Project in Michigan, USA. For more information, please visit GRC's website, located at www.goldresourcecorp.com and read the company's Form 10-K for an understanding of the risk factors associated with its business.
Q2 2023 Conference Call
The Company will host a conference call Thursday, July 27, 2023 at 10:00 a.m. Mountain Time.
The conference call will be recorded and posted to the Company's website later in the day following the conclusion of the call. Following prepared remarks, Allen Palmiere, President and Chief Executive Officer, Alberto Reyes, Chief Operating Officer and Kim Perry, Chief Financial Officer will host a live question and answer (Q&A) session. There are two ways to join the conference call.
To join the conference via webcast, please click on the following link: https://viavid.webcasts.com/starthere.jsp?ei=1624501&tp_key=3623edd13a
To join the call via telephone, please use the following dial-in details:
| | |
| --- | --- |
| Participant Toll Free: | +1 (888) 886-7786 |
| International: | +1 (416) 764-8658 |
| Conference ID: | 11731488 |
Please connect to the conference call at least 10 minutes prior to the start time using one of the connection options listed above.
For further information please contact:
Kim Perry
Chief Financial Officer
Kim.Perry@GRC-USA.com
www.GoldResourcecorp.com
View source version on businesswire.com: https://www.businesswire.com/news/home/20230726190363/en/